WOVEN Women's Conference 2018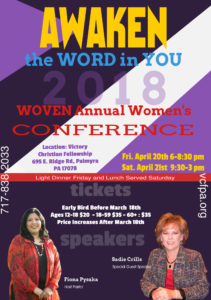 AWAKEN the WORD in you.
WOVEN Women's Conference
April 20th & 21st, 2018

Friday Night: 6:00 pm to 8:30 pm
Saturday: 9:30 am – 3 pm
Light dinner on Friday Evening and Lunch Saturday!
A conference for the year.
Women hold powerful keys of influence for the lives they nurture and help. They are so powerful in their influence and don't even realize their power. Inadvertently women have been operating at a sprinkle of their potential in influence and great guidance to their families. 
This year's conference is designed to STUFF your pockets full of potent supplies of God's WORD given to you. You will discover the treasures missing that could bring your family out of situations that were none of your doing. Yet, you could learn KEYS and NUGGETS that could reverse decades of what the enemy has been planning to defeat you. You were not created to be defeated, but to win and WIN BIG.
John 10:10 tells us the big picture of what's going on behind the scenes in the spirit realm. It shows us the problem and the solution. Learn how to use this verse for victory and much more that will change the way you influence your family, friends and co-workers.
John 10:10

New Living Translation (NLT)
10 The thief's purpose is to steal and kill and destroy. My purpose is to give them a rich and satisfying life.
our speakers.
---
Sadie Crills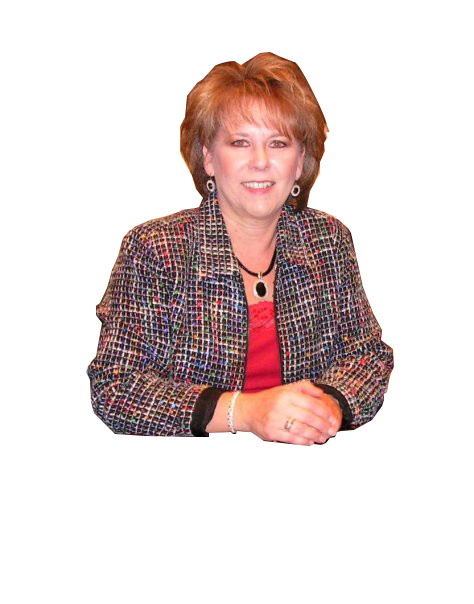 Sadie Crills, a graduate of Rhema Bible Training Center, is a passionate teacher of the Word of God for over 25 years.  She served on staff at The Worship Center as Missions Director for a number of years.  This took her to many countries throughout the world, speaking in Bible Schools, Leadership Conferences and churches.
In the past several years Sadie has been involved in Sierra Leone, helping with establishing Life Training Centers, training teachers and leaders and teaching the Bible courses.  It is so exciting to see the Word of God changing the mindset of the leaders and students in these training centers, and how this is having an effect in the communities of this nation.
Sadie's heart and passion is to help people discover their God-given gifts and to see people's lives changed as they discover the truths of God's Word.
Sadie and her husband, Dave, have 3 married children and 1 grandson.  They live in Lancaster, PA and are involved at their home church, Worship Center.
---
Pastor Fiona Pyszka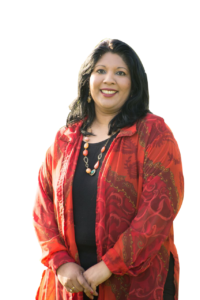 Fiona is passionate about helping people discover their purpose and walk in confidence in life.  She is the happy wife of Pastor Doug Pyszka, lead Pastor for Victory Christian Fellowshiop and mother of two boys, Gabriel and Josiah.
She is the founder of Fiona Inc. A personal development and mentoring company. Her work of teaching and personal mentorship of many over the years has helped to restore people to their purpose and their confidence in life.
She is also the President of Bless The Children Home Orphanages. And oversees the operations of their Children's Orphanage in Guyana, South America.
She is an international speaker and teacher. She has a BA from Lee University and an MBA from Regent University, which enables her to work with people of all walks of life. Over the years her training has allowed her to work in management in a number of industries and Fortune 500 companies. But her favorite work of all has been working in the Kingdom of God since she was 9 years old. Books she has authored includes, The Purpose of You, You Can be Fearless, The Confident You, How to Handle Difficult Relationships, Identity Reset and Take Back Your Life.
She is the host Pastor for this conference is eagerly await your presence this year. Much prayer and preparation are in place for you to receive an encounter with The Living God. The One who saves and redeems our life.
---
TICKETS (early bird pricing) available until March 18th
Ladies (18+) Tickets Pricing $35/each (regular $55)
Young ladies 18 and under $20.00/each (regular $35)
Senior (60+)Tickets Price $35.00/each (Regular $40)