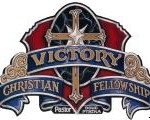 VCF CONFESSION
2nd Quarter 2014
Declaring God's Love for Us
God's love for us is greater than faith and hope and it abides forever.
We have God's love by faith. His love for us strengthens our faith to work powerfully. 
By faith, Christ dwells in our heart and we are rooted and grounded in His love. 
God's love for us carries us through challenges and it cannot fail. 
We love the Lord God with all our heart, soul and mind and we love our neighbor as ourselves. 
We are made alive in Christ because of His great love.
At Victory, our vision is to proclaim the whole word of God; to build a strong body of believers; to encourage relationships in a loving atmosphere and to reach out beyond our walls with the message of salvation, hope and inheritance.
We activate God's word to go into all the world and preach the gospel to every creature.  At Victory Christian Fellowship we are inheriting God's promises and experiencing their benefits.
 Scriptures
1 Cor 13:13 And now abide faith, hope, love, these three; but the greatest of these is love. NKJV
Eph 2:4-6 But God, who is rich in mercy, because of His great love with which He loved us, 5 even when we were dead in trespasses, made us alive together with Christ (by grace you have been saved), 6 and raised us up together, and made us sit together in the heavenly places in Christ Jesus. NKJV
Gal 5:6 For in Christ Jesus neither circumcision nor uncircumcision avails
anything, but faith working through love. NKJV
Eph 3:17-19 that Christ may dwell in your hearts through faith; that you, being rooted and grounded in love, 18 may be able to comprehend with all the saints what is the width and length and depth and height —  19 to know the love of Christ which passes knowledge; that you may be filled with all the fullness of God. NKJV
Matt 22:37-40 Jesus said to him, "'You shall love the LORD your God with all your heart, with all your soul, and with all your mind.'   38 This is the first and great commandment.  39 And the second is like it: 'You shall love your neighbor as yourself.'   40 On these two commandments hang all the Law and the Prophets."  NKJV