Dr. Ron Charles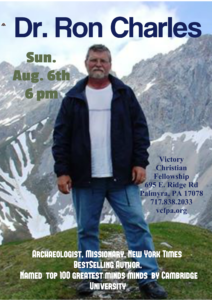 RENOWNED CHRISTIAN ARCHAEOLOGIST TO SPEAK IN PALMYRA!
Dr. Ron Charles, archaeologist, author, teacher and missionary will be speaking at Victory Christian Fellowship 695 E. Ridge RD. Palmyra, PA on Sunday Aug. 6th at 6 pm. All are welcome. Free will offering will be received.
Dr. Ron Charles is CEO of the Cubit Foundation, a non-profit Humanitarian/Education foundation, currently serving in seventeen countries.  His wife Paula and son Brad also work with him at Cubit. For over 22 years, he has been involved in humanitarian and teaching efforts in the Middle East, especially in Egypt, Sudan and Libya. Travelling to 60 different countries, he has ministered in 57.  He is the author of over 14 books including Noah's Ark and has been awarded "One Thousand Greatest Americans" honor by the International Biographical Centre of Cambridge, England.